The new coffee shop on Cesar Chavez Avenue in Boyle Heights was busy and steamy Thursday afternoon.
Busy for the reason that people today look to like its menu of meals and beverages.
Steamy for the reason that a vandal had smashed the glass front door, and the air conditioner couldn't beat back the mid-summer time heat pouring in from the street.
So I ordered an iced coffee and settled in.
What drew me there was a story by my colleague Ruben Vives about the Boyle Heights anti-gentrification activists who have targeted Weird Wave Coffee, just as they've targeted art galleries that have moved into the region.
Protesters, calling for a boycott of Weird Wave, flashed indicators with "[blank] White Coffee" and "AmeriKKKano to go." On Wednesday, surveillance video showed a person in a black mask smashing the front door window.
What a bunch of hypocrites and cowards.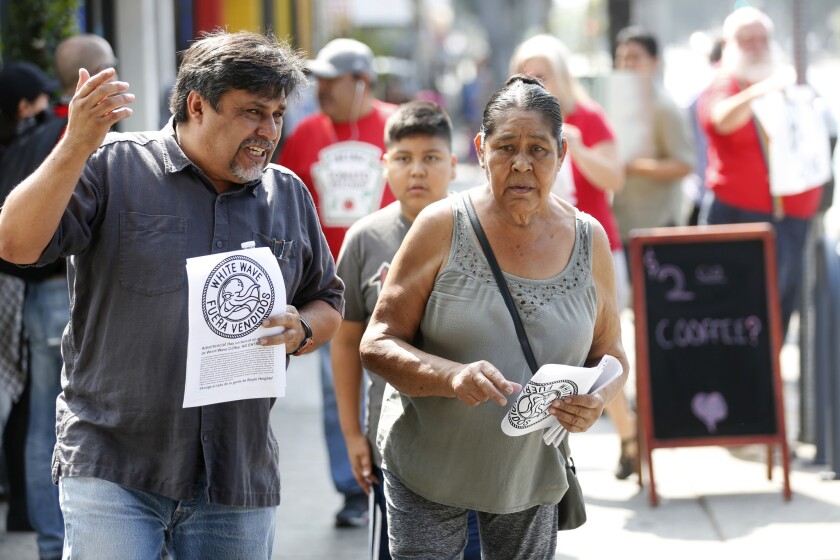 L.A. is normally altering — not just in 2017
As absolutely everyone knows, Los Angeles is normally altering, and has been for the final couple of hundred years. Just before Boyle Heights was predominantly Latino, it was dwelling to people today of Jewish, Russian, Japanese, Portuguese, Croatian and Serbian descent.
Echo Park, Highland Park and the Arts District have been transformed, as well. Displacement is genuine, with increasing rents forcing mass movements of people today across the city in a funds-driven game of winners and losers, and I've written about that numerous instances.
But you cannot quickly reverse the phenomenon, or have any genuine influence with a race-primarily based rant against a compact independent coffee shop that moves into a vacant storefront and is embraced — as far as I could inform — by merchants and neighbors.
Two undercover cops, a single Mexican-American, came in to show their help.
Marta Reyes, a frequent, was greeted by name when she came in for a coffee.
"Everyone has to have possibilities to perform," stated Adriana Gonzalez, who runs the travel agency subsequent door to Weird Wave and stops by the shop a couple of instances a day for a cafe con crema or a mocha. Attempting to drive out white owners is a case of "too substantially racism," she stated.
Some merchants stated they appreciate the organization that may possibly come their way with far more foot site visitors about the coffee shop. And Christina Torres of the Boyle Heights Historical Society dropped by to donate framed photographs of the neighborhood's early days. She stated it was a way to welcome the new organization, which opened in June, and to hyperlink the shop to a proud history.
Is the Salvadoran coffee guy actually the enemy?
The protest has a couple of ridiculous elements to it.
Very first, a single of the 3 owners of Weird Waves is Latino. Mario Chavarria was born in El Salvador. He owns and lives in a West Adams developing exactly where two tenants — Jackson Defa and John Schwarz — came to him with their coffee shop notion, and he place up the funds to back them. They searched the complete city just before acquiring a spot they liked.
"We have a 5-year lease, so we've got to hold going for at least that lengthy," stated Chavarria. "For what ever hate comes our way, there's 10 instances far more help from the neighborhood."
He stated he attempted to speak to protesters but didn't get anyplace with them.
"They do not like to engage," he stated. "They just like to hate."
The other ridiculous aspect of this dispute is that Boyle Heights has a Starbucks, and the activists do not look to have a difficulty with it. Is there a far more apparent symbol of outsider corporate establishment significant-footing its way into neighborhoods, driving up rents and altering the nearby vibe?
When Christine Fimbres saw the story on the broken window at Weird Wave she drove straight to the coffee shop from her dwelling in East L.A., marched up to the counter and ordered a brew.
She was livid, and adamant in her help of Weird Wave.
"I've been in this neighborhood for 54 years, because this street was named Brooklyn Avenue," she announced, asking why, if the protesters care so substantially about the neighborhood, they do not do some thing productive like sweep the streets.
The protesters integrated members of a nonprofit named Union de Vecinos, whose leaders have been unavailable to meet with me just before subsequent week.
Appears to me their time could be far better spent supporting and facilitating new organization investment rather than attacking it, or campaigning for faster movement on building of very affordable housing, specifically as City Hall weighs its solutions on that subject.
When protesters very first showed up, co-owner Defa stated he could determine with them for the reason that gentrification drove him out of San Francisco.
"I went out to speak to them," he stated, but he gave up when he was named a racist.
Street tacos and fancy coffee can coexist
Daniel Morales, the genuine estate man who rented out the storefront, stated lots of people today have been interested, but only Weird Wave moved forward. He told me he's sensitive to issues about gentrification, but stated L.A.'s history is about adjust. He pointed out that Canter's Deli employed to be close to Weird Wave just before moving west.
Morales stated he recommended to the Weird Wave proprietors that they think about a far more Latin-sounding name for their organization. But co-owner Schwarz had a difficulty with that.
"I believed that would be insincere," he stated. "I didn't want to be pandering."
In addition to, for all the stresses that come with gentrification, adjust and assortment are amongst the factors that make such neighborhoods the most exciting in L.A.
Weird Wave Coffee across the street from King Taco?
I'll have a tiny of each, thank you.
Get far more of Steve Lopez's perform and comply with him on Twitter @LATstevelopez
ALSO
A neighborhood in flux: Will Boyle Heights be ruined by a single coffee shop?
Vandal targets coffee shop at center of anti-gentrification protests in Boyle Heights
Abcarian: They uncover, they gentrify, they ruin: How 'progress' is wrecking Los Angeles neighborhoods
window.fbAsyncInit = function() { FB.init({
appId : '119932621434123',
xfbml : correct, version : 'v2.9' }) }
(function(d, s, id){ var js, fjs = d.getElementsByTagName(s)[0] if (d.getElementById(id)) {return} js = d.createElement(s) js.id = id js.src = "https://connect.facebook.net/en_US/sdk.js" fjs.parentNode.insertBefore(js, fjs) }(document, 'script', 'facebook-jssdk'))